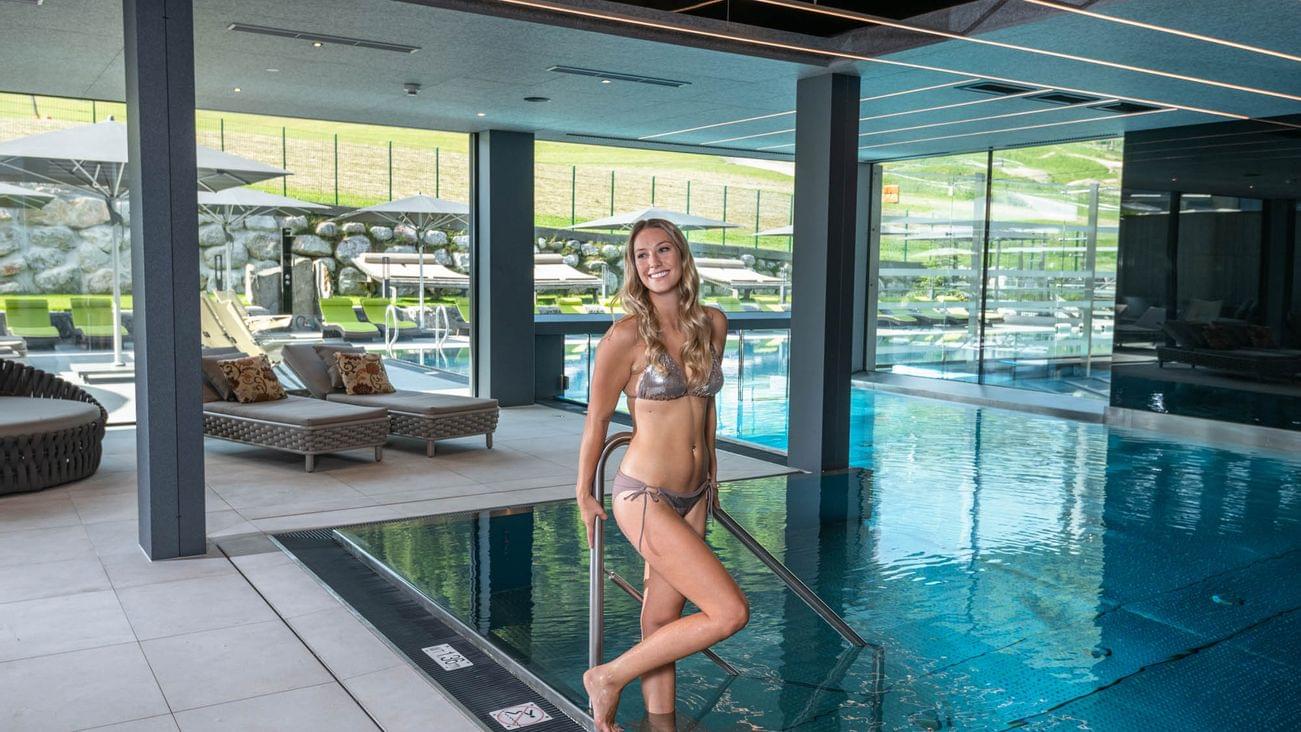 E-bike tours around Leogang
Your mountain bike holiday in Leogang starts with us at the Riederalm.
Every rain is followed by sunshine - sometimes it is the other way round and bad weather days also hit us on holiday. Reason enough for us to think about which highlights our region offers for days with bad weather. There are many such highlights in the vicinity and we have looked at some of them and found them to be highly recommended.
Our Top 3 bad weather excursion destinations
Within a travel time of just under 1 hour you can reach some great destinations from the Riederalm, which you can easily visit even during rainy days. We have reviewed these destinations and found the following Top 3 (5) for you:
National Park Worlds Mittersill
A museum to touch - for more than 10 years the National Park Worlds have been an absolute magnet for visitors. And that is right, because the 1800 m² Alpine adventure world offers unique insights into the Hohe Tauern National Park for all ages. The interactive themed worlds are varied and exciting: Eagle flight panorama, marmot & co, glacier world and much more impress the visitors...
The Leogang Show Mine with the Mining Museum Hütten
'Glück auf' (traditional miners' greeting 'I wish you luck') is also the motto in the Schwarzleo valley mine on rainy days. In this wildly romantic side valley there are traces of the oldest mining in the region of Salzburg. Well-trained guides show you the extensive tunnel systems and explain the difficult work of the former miners. Important: solid footwear and functional clothing! Information at the Riederalm reception or at www.schaubergwerk-leogang.com
In addition to the show mine, we recommend a visit to the Mining and Gothic Museum in the mining village Hütten:
In the last 25 years, the museum in Hütten developed into a mediaeval centre and gained international recognition through various focal points and exhibitions. The goal of conveying enthusiasm has definitely reached this great museum and is for us one of the really worth seeing attractions in the immediate vicinity!
City of Salzburg with an incredible number of possibilities to spend a rainy day:
Admittedly, on a rainy day you have to expect traffic jams and lots of day tourists in the city of Salzburg. However, if you inform yourself in advance about the various transport options (Park&Ride), you can still spend a relaxing and especially very exciting day in the city: House of Nature, Fortress Hohensalzburg, Mozart's birthplace, Stiegl Brauwelt brewery, Toy Museum and so much more promise plenty of variety and fun... https://www.salzburgerland.com/de/magazin/schlechtwetter-top-10-der-stadt-salzburg/
And finally - our (un)official places 4 & 5...
Yes, the saying ''There's no such thing as bad weather, only unsuitable clothing' sounds pretty corny and looking out the window on a rainy day it is difficult to motivate yourself to go out. Nevertheless, you should also try to spend a day (or at least half a day) outside in bad weather. A short alpine hike to the Sinnlehenalm mountain hut, for example, with suitable rain equipment, is rewarded by a delicious Brettljause and a warming schnapps. Or even the gondola ride to the Asitz (included in the Saalfelden Leogang Card) - combined with a small circuit hike - will definitely be worth it.
And because we're talking about rain equipment, we actually came up with another highlight, which is even on the doorstep of the hotel. The 'Epic Bikepark Leogang' is also open on rainy days and offers routes for beginners and advanced. The right equipment can be rented easily at Sport Mitterer sports shop, and the bike guide can be quickly organised via the bike school Elements. Especially on rainy days it is incredibly fun to test the downhill routes...
And if you come back from the fresh, humid summer air, then you can enjoy it even more in our Birnhorn Mountain Spa deluxe exclusively for adults: relax with a supervised sauna infusion and in our thermal outdoor pool with a cosy 33°C water temperature or with a soothing massage. Or just unwind and enjoy the time in our pine relax cube.
And if the kids get tired of 'jumping around in puddles'...
...then even on rainy days it will certainly not be boring in the Riederalm.
Not only the 'Pinzgauer Wasserfestspiele' water area with indoor pool and 20-metre heated outdoor pool offer plenty of fun for the whole family. On the legendary waterslide 'The Waterfall' with a length of 57.57 m everyone can measure their skill - the automatic timing guaranties fun slide duels!
And the brand new soft play system in the game room definitely makes children forget about time - here the kids can really romp around while mum and dad enjoy coffee and cake in the cosy restaurant.
So you can see that a rainy day is not a holiday day lost. On the contrary, on rainy days you can do all the things that you wouldn't do on hot summer days. And it would be a pity if you missed these highlights. And who knows: maybe as the day goes by, the sun will even start to appear among the clouds.
Of course, there are still plenty of excursion destinations in our vicinity - we will tell you more in one of the next blogs!
You might also be interested