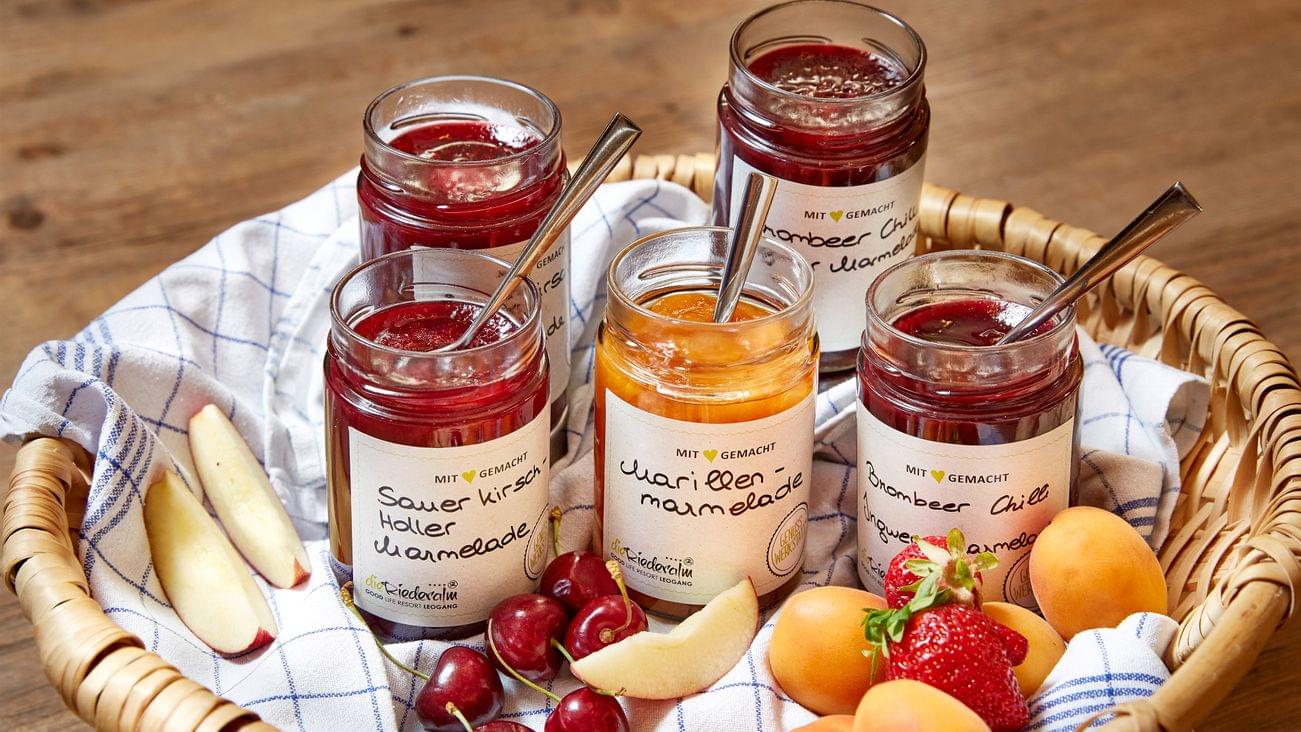 Good Life Recipe: Low Carb Muesli à la Riederalm
The perfect start of a new day
GourmetFrom the region
 from Michaela Eder & Theresa Maier
In the region of Saalfelden Leogang, the term regionality is very important. We in the Riederalm also live 'regionality' - REAL & HONEST! Our young kitchen team around junior chef Andreas Herbst is extremely eager to experiment and regularly surprises us and our guests with new creations.
However, the quality and freshness of the products used are always top priority. Many of our main suppliers come directly from the region, are known to us personally and guarantee the highest quality. Food is processed respectfully in the Riederalm gourmet kitchen. It is important for us, for example in the case of meat, to use every part of the animal. There are so many different delicacies, such as our cured beef, young beef ham, pastrami and much more.
An important principle of our cuisine is also the reflection on nature and thus the exclusion of artificial flavours. Nature offers us so many things, from herbs in our herb garden to elderflowers to the freshly picked blueberries in summer. This also produces sweet delicacies like syrup or jams, which you can enjoy with us! And if you want to take home a 'piece of the Riederalm' then you can choose your favourite jam in our shop. Your breakfast bun will then taste at least twice as good and will remind you of the beautiful time with us!
Regionality in the thermal pool?
It is not only in terms of culinary aspects that we strive for regionality and sustainability in the Riederalm. Did you already know, for example, that the biomass heating plant east of the Asitzbahn mountain lift valley station supplies the surrounding tourism businesses and private households? Through this district heating network about 400 to 500 thousand (!) litres of fuel oil are saved per year in our area.
One of the Riederalm highlights is certainly our new thermal pool at the Mountain Spa 'Birnhorn'. And you can hardly believe it: Even in the 20 m thermal pool we offer pure regionality. We get the thermal water directly from St. Martin near Lofer - the best, regional healing waters, personally delivered by the head of the hotel using our THERMALeogang Truck.
There is a lot to enjoy during a 'cosy break' at the Riederalm, don't you think?
Regional delicacies & creative ideas for your home...
As mentioned at the beginning, the issue of regionality is very important throughout the region. We therefore strongly recommend that you visit the many regional producers and craft businesses in person! If you want to take some genuine Pinzgauer delicacies home, head to, for example, the village shop in Leogang or to one of the many direct marketers. You might also want to go on a distillery tour or a tour of a cheese factory followed by a tasting... We will be happy to give you some tips!
Elke and Christian Riedlsperger have also created a very special little paradise with their creative shop Leogang. Not only the garden is a true paradise, especially in summer. The shop in the Hirnreit district is a small treasure trove that you just have to visit. There are beautiful decorative items offered, mostly made in our own workshop - for every occasion and every season you will find here the right thing. And the creativity of Alice and Christian has almost no boundaries. You have individual ideas or an idea for a special gift? In the creative shop you will surely find an open ear: from personalised snack boards to the stylish wall clock to cufflinks, everything is (almost) possible here.
It makes us happy when you take many beautiful memories of the Riederalm and Leogang home with you, and maybe also a 'souvenir' to remember. Because with a piece of 'holiday' at home the time until the next holiday will pass much easier and faster!
You might also be interested