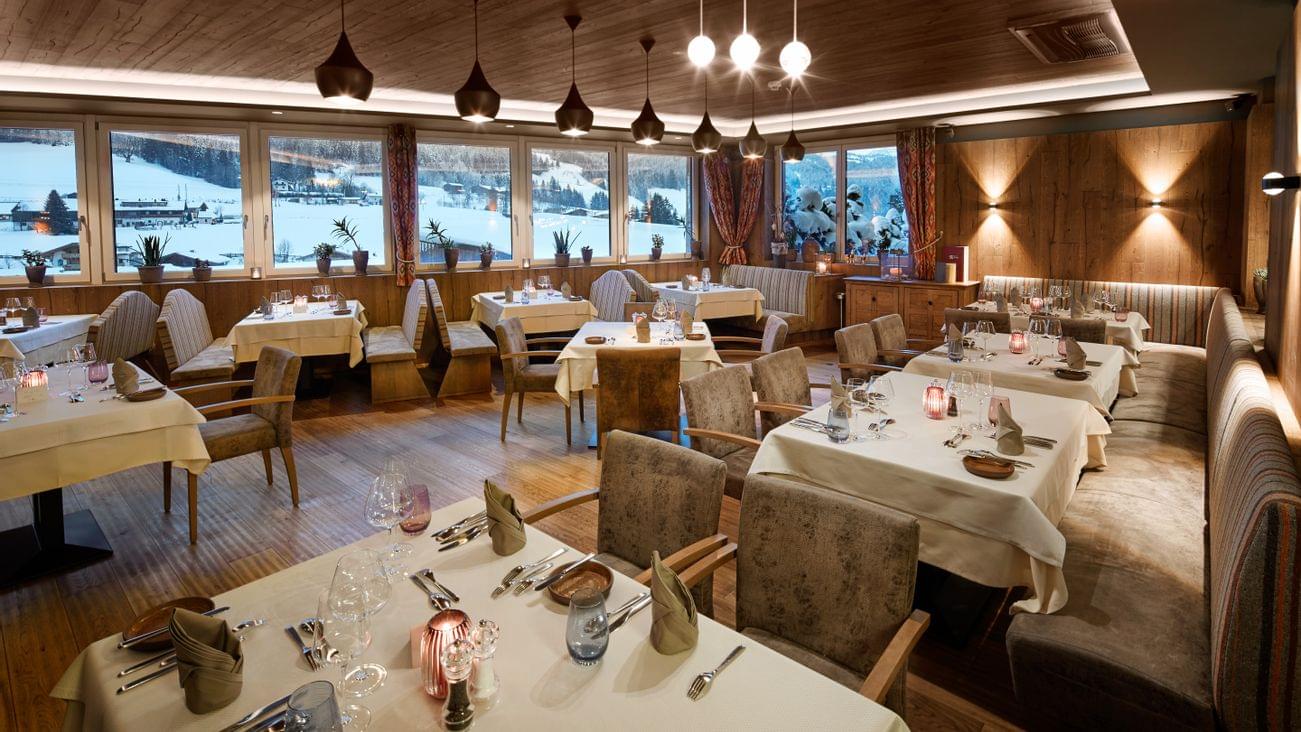 Andreas Herbst is a 'Jeunes Restaurateur' and has received many awards
Culinary news at the gourmet hotel Riederalm
Posted on 29. November 2019
GourmetFrom the region
 from Michaela Eder & Theresa Maier
In October 2019, Andreas Herbst was admitted to the elite club of top chefs, at the 'Jeunes Restaurateurs d'Europe'. For a passionate chef like Andreas, this is one of the highest awards, because the JREs are the defining trendsetters of European culinary culture. We are also very proud of our excellent reviews in the Gault Millau 2020 and in the A la Carte Guide 2020!
Who are the Jeunes Restaurateurs d'Europe?
There are about 350 members from 15 countries - all talented top chefs whose highest priority is pleasure in all its facets and at the highest level.
It is about 'cuisine and wine' as a defining part of great European culture, not frozen in tradition, but open to forward-looking ideas with sustainable, mostly regional products of the best quality.
Whether classic or with extravagant creativity - everyone is committed to making a restaurant visit a culinary experience with an individual, very personal touch.
What is so special about the JRE?
JRE is all about sharing, motivating and inspiring the culinary passion and talents of the individual top chefs. The chefs enjoy great solidarity with each other and share their cooking skills and experience with each other. As a guest at any JRE restaurant, you will undoubtedly enjoy the culinary excellence and passion of the respective chef - indeed very special everywhere, but at the same time also very personal and unique gourmet experiences, in which the region plays an important role.
There are always great culinary events that delight both chefs and guests alike. So get excited - there is something exciting coming up for you and us.
When were the JRE founded?
The Jeunes Restaurateurs d'Europe were founded more than 40 years ago in Paris as a cooperation of young, ambitious chefs and restaurateurs, and today there are more than 350 restaurants in 15 countries, which are consistently the leading establishments in the respective countries.
Who are members of the Jeunes Restaurateurs in Austria?
Austria has around 30 Jeunes restaurateurs and with Andreas Döllerer and Thomas Dorfer as presidents, two of Austria's best chefs at the top.
Our beautiful Leogang is the first (!!!) place with two JRE establishments, namely the 'Kirchenwirt Leogang since 1326' and our gourmet restaurant Riederalm.
Andreas Herbst has been running the Riederalm kitchen for some years, but only recently we have found the right concept, which offers the ideal offer for our hotel guests as well as for our a la carte guests. We offer the same menu with several choices for our a la carte guests as well as for our hotel guests and do not make any differences. So all our guests can enjoy the culinary delights of Andreas Herbst. And thanks to the a la carte offering we have also been included in various well-known restaurant guides.

'The Epic Slow Food Leogang' - this is what Chef Andreas Herbst calls his Alpine cuisine style, which inspires with modern interpretation of traditional classics. Local delicacies, innovative preparation and exquisite gourmet cuisine with Pinzgau nuances characterise our dishes. Regional products of the highest quality are used sourced from local producers as well as herbs from our own garden. Our wine cellar offers a refined selection of national and international wines, sometimes with some insider tips from Maître d'hôtel Fernando Fanaro.

This concept by Andreas Herbst was rewarded by Gault Millau with 2 toques , 13.5 points and an excellent review. In the a la carte guide, our Riederalm was also awarded 3 stars, 83 points and 2 wine bottles. And from the Schlemmer Atlas we received 3 spoons and Andreas Herbst was chosen as one of the '50 Best Chefs of Austria'.

Our passion is to give all our guests an unforgettable gourmet experience - with exciting culinary compositions, noble wines and charming service.
It would be nice to see you soon in our gourmet restaurant Riederalm!
You might also be interested