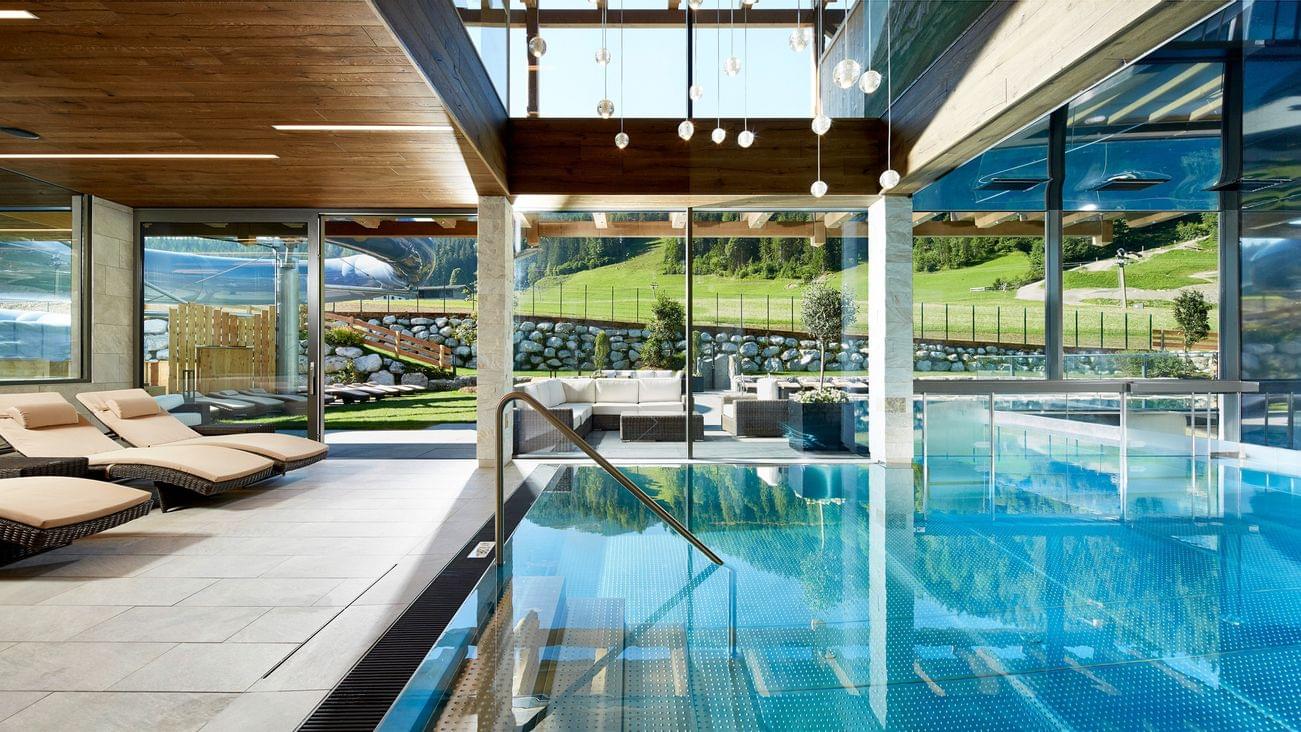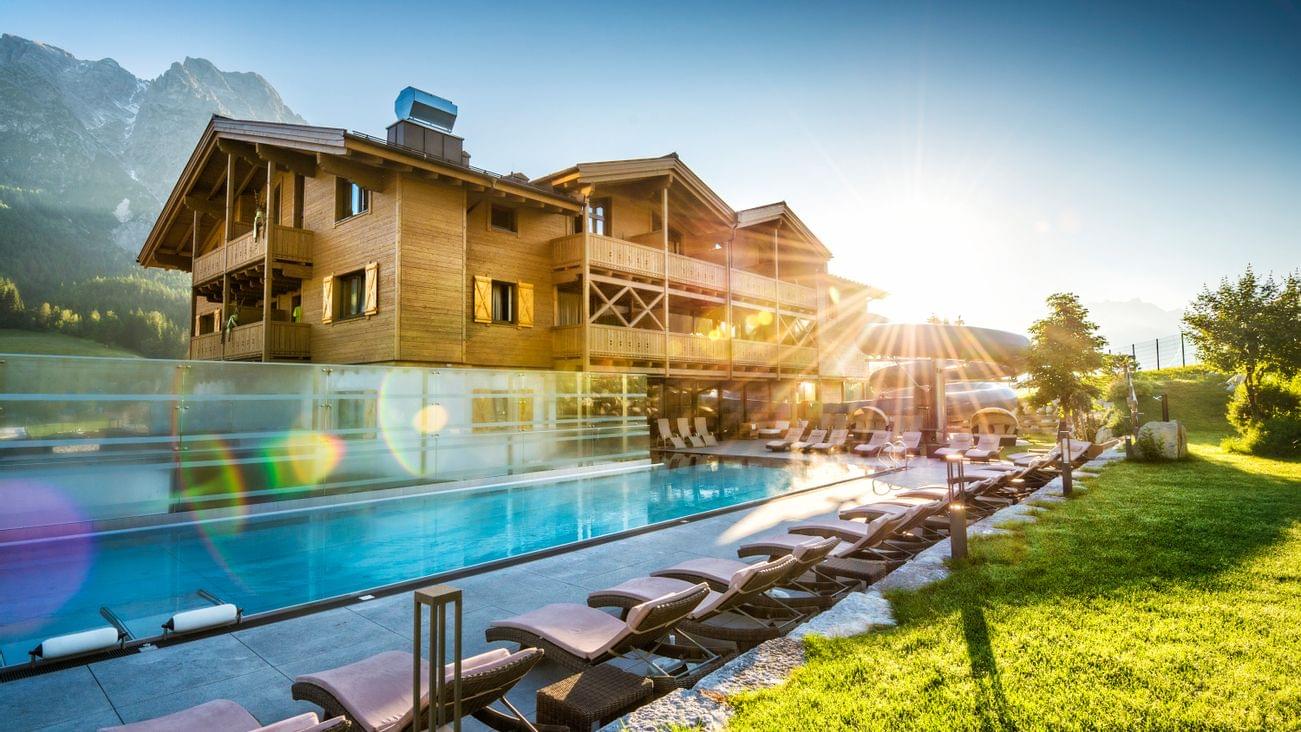 Wellness tips for pure relaxation
We have some tips so you can completely relax.
Posted on 4. January 2019
News
Who doesn't dream of a wellness holiday with a partner, a best friend, or family? But how can you enjoy a wellness holiday even more and really switch off? We have a few tips so that you can completely relax during your wellness holiday in the Riederalm.
Start your holiday already at home
Avoid stress as much as possible one or two days before your arrival! If possible, we even recommend travelling officially one day earlier: tell all friends and relatives, as well as the customers and colleagues with whom you do not work directly, that your holiday starts one day earlier. So on the last day, your work doesn't pile up on your desk.
And don't pack at the last minute! Start packing at least four days before your arrival. Then you can also buy a new bikini or a new bathing suit in time and you can really look forward to your holiday.
Turn off phone, laptop & co
It's not easy to switch off the smartphone or the tablet, because: you just want to check your e-mails for a moment, just make a quick phone call before dinner, take a look at Facebook, ... Even if checking the e-mails lasts only a few seconds, it is still a big mistake, because you are still in your mind at work.t That is why it is very important that you switch off all technical devices so that you can also switch off your mind.
To relieve tension, movement is a good and quick solution. Enjoy our beautiful nature during a walk, a few nice hours of skiing or rent a bike.
Drink plenty of (Grander) water
'Drink a lot of water' Many people no longer want to hear it, but it is so important for the body! Two to three litres of water a day should always be consumed, and anyone who moves a lot or goes in the sauna and sweats a lot may drink even more water.
With us in the Riederalm you drink GRANDER water in the entire hotel. The GRANDER water revitalization creates a unique water quality for your well-being. It improves the water structure and thereby strengthens the self-cleaning and resistance of the water, so that a natural and stable immune system is created. And all this in a natural way, without any chemical additives.
Pure Relaxation
Enjoy the wellness offer
Pure swimming and bathing pleasure in our Pinzgau Wasserfestspiele & the Mountain SPA invite you to enjoy and relax. Enjoy the various saunas because it is not only completely relaxing, but also very healthy. During the sauna, your body temperature is passively increased. At 40 to 41°C, health-promoting chain reactions are triggered in the body. A visit to a sauna is comparable to a fever: pathogens are destroyed, the blood vessels widen, so that twice the amount of blood can flow through.
Our tips for you
so that you can really enjoy the sauna
Always drink plenty of water before going to the sauna.
Eat only light meals just before going to the sauna - your body already does enough in the sauna and should not be additionally busy with digestion work.
Go to the toilet before going to the sauna.
You should lay off your jewellery as the metal in the sauna on your skin gets very hot.
Shower before going to the sauna - A sauna visit begins under the shower, so that the pores undergo a first cleaning and free themselves from skin scales and sweat. After showering, you must not forget to dry well, because if the skin is still moist during the sauna session, the water must first evaporate before the proper sweating can begin.
Always sit or lie down on your sauna towel - in the sauna, the hygiene principle 'no sweat on wood' applies.
Lie on your back in the sauna (as long as the space allows) - this is the gentlest treatment for the circulation.
If you get too hot, you can switch to a lower bench — heat goes up, so it's hotter on the upper benches.
A sauna session should be short, but the effect should be intense. 8 to 15 minutes are enough - a sauna session should not be a competition, who can stay the longest (*For competitions you can try our water slide with time keeping and find out who can slide the fastest!)
If you're not feeling well in the sauna, don't force yourself to stay - go outside, take a shower, rest a bit and just try again later.
The sauna session isn't over when you go out! Because the cooling phase is very important. Give your body fresh air, because your lungs need oxygen. Don't sit down, because you want to keep your muscles moving. As a final cooling down, it is time for a cold shower. Start with your feet, then your legs, hands, arms, and at last your torso. This cool-down should last as long as the sauna session and is also very important, because excessive re-sweating can cause a cold!
For experienced sauna enthusiasts, we recommend starting June 2017 to dive into the glacier-ice diving pool to cool-down. Don't forget to breathe quietly and do not stay for too long (10 seconds is enough).
Now is the time to relax: put your legs up and keep them warm.
After the sauna, drink a lot of water or herbal tea (then feel its warmth, enjoy the scent and enjoy the wonderful taste).
Do something good for you
To forget about the stress of the day, we recommend a massage. For example, an aroma oil or forest magic relaxation anti-stress massage; the scent of the oils appeals to the psyche, can positively influence the mood and regenerate body, mind and soul.
Our advice: book your treatment before your arrival so that we can take your wishes into account.
Read a book instead of watching TV
Our Riederalm rooms & suites enchant with cosy living and sleeping comfort. But if you still find it difficult to fall asleep in the evening, we recommend reading a book or a magazine. Don't turn on the TV, the blue light from the TV will wake you really up and switching from one programme to another will cause nervousness.
We wish you a lovely and relaxing wellness holiday!
You might also be interested