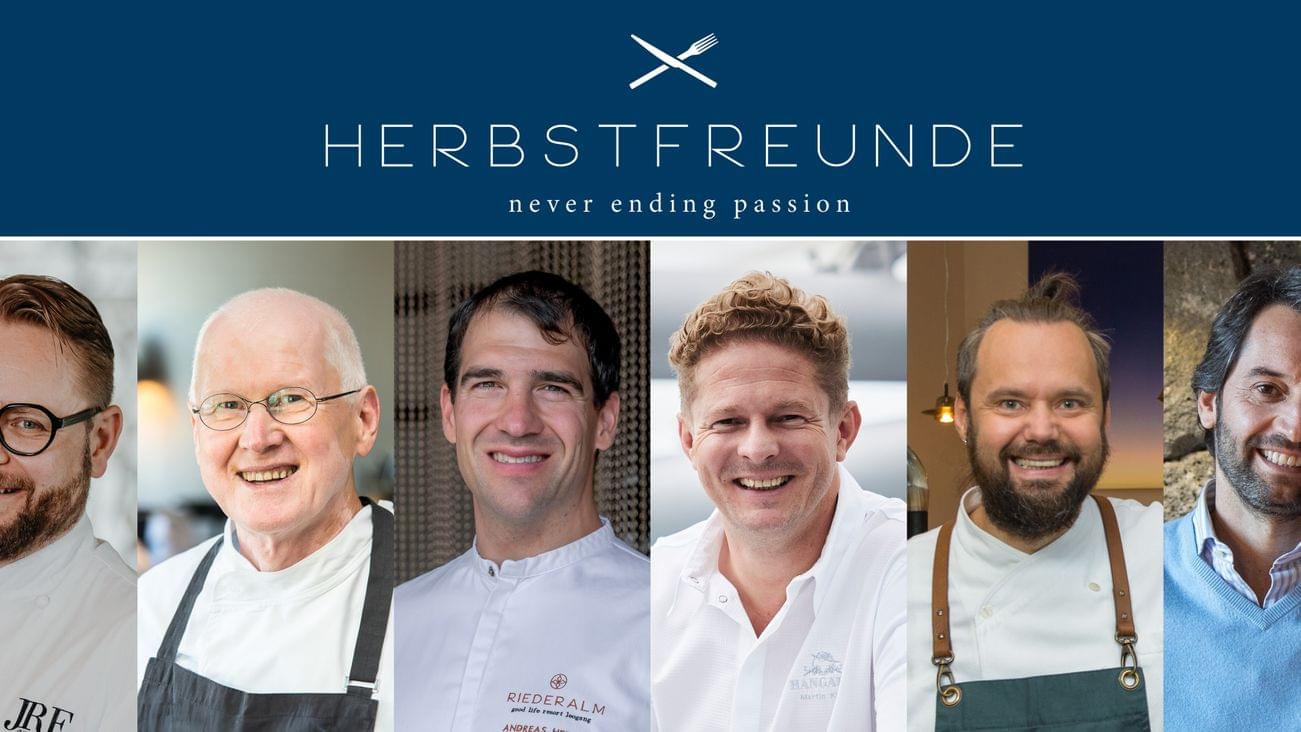 Enjoyment event on 9 November 2024
'Herbstfreunde' 2024
Enjoyment at the highest level
A delightful evening of the extra class – look forward to the annual culinary highlight in the Riederalm!
Let us surprise you who will be cooking together with Andreas Herbst next year, and who will make the hearts of connoisseurs beat faster with the menu on top level.
We are very pleased to welcome 4 of Austria's best chefs again in 2024:
Andreas Krainer
Hotel-Restaurant Krainer, Langenwang, Steiermark
Martin Klein
Restaurant Ikarus, Red Bull Hangar-7, Salzburg
Mario Lohninger
Restaurant Lohninger, Frankfurt
Paul Lohninger
Restaurant Lohninger, Frankfurt
Salvino Benanti
Weingut Benanti, Viagrande (Italy)

Andreas Herbst
Host & Executive Chef Hotel Riederalm, Leogang, Salzburg
The philosophy of Andreas Herbst is honest & homely - drawing inspiration from the local area. Treasure the basics and old recipes, preserve them and carry them on in new creations. Push the boundaries of your own tastes, do not gloss over anything and put pure pleasure at the forefront He picks nettle at the edge of the forest, picks up some elderflower and manages to create the most delicious culinary delights that gourmets can only dream of with his principle 'from nose to tail'.
He is host and also executive chef at the Hotel Riederalm and invites a few of his colleagues to show their skills at the Autumn Friends gala. Look forward to an extraordinary culinary event with us in the Riederalm.
Andreas Krainer
Hotel-Restaurant Krainer, Langenwang, Steiermark
His plates are a stage for rural agriculture. Even after many years, he is still discovering new old things that are being revived. Far removed from industrially produced food, he wants to show small and micro farmers the respect they deserve, far removed from any false romanticism.
Andreas Krainer is well connected with regional producers. Working together with his team in the kitchen, tradition, responsibility and creativity go hand in hand. A kind of "new Styrian cuisine" that is close to the slow food concept.
#gaumenaquaplaning
Martin Klein
Restaurant Ikarus, Red Bull Hangar-7, Salzburg
"Product-conscious and honest" is how Martin Klein, who comes from Alsace, sums up his kitchen philosophy in a nutshell. "This means that I attach great importance to sourcing fresh ingredients from local suppliers. And that there should be no shortcuts in the kitchen. The work on every single dish should and must be hard."
Paul & Mario Lohninger
Restaurant Lohninger, Frankfurt
Mario Lohninger, who has been honored as Chef of the Year in both New York and Germany, combines Austrian traditions with global culinary influences. Together with his father Paul Lohninger, the two will help shape the evening's culinary delights, their dishes combining local accents with international inspirations.
It was a great pleasure for Paul to take Andreas Herbst under his wing, to be his mentor and to introduce him to the world of top gastronomy. He is proud to have been part of his culinary journey.
After his time in a restaurant in Leogang, Paul now supports his son Mario Lohninger in his restaurant Lohninger in Frankfurt.
In their kitchen, they place particular emphasis on combining tradition and innovation. They believe that every dish should tell a story and try to reflect this ethos in every plate they serve. The cuisine is characterized by high-quality ingredients, creativity and the constant search for new flavours.
Salvino Benanti
Winery Benanti, Viagrande (Italien)
Born at the foot of Mount Etna in Sicily, Salvino is part of a traditional family business, the Benanti Viticoltori winery. After growing up in Sicily, he moved to Switzerland at the age of 14 to attend the International School in Geneva. In the same year, his father Giuseppe founded the winery, which resumed an old family tradition of producing wine on the slopes of Mount Etna.
After studying economics in London and spending years in the financial sector, he returned to Italy at the age of 30. Here he joined his visionary father and took over the management of the winery with his brother at the age of 38.
Over the past twelve years, they have developed the winery in all areas and gained an international reputation. Their wines reflect the volcanic character of Mount Etna and are characterized by finesse and elegance. As "high mountain wines" from cool altitudes, they are very different from typical Mediterranean wines. Their aim is to bring these unique wines closer to Austrian wine lovers.