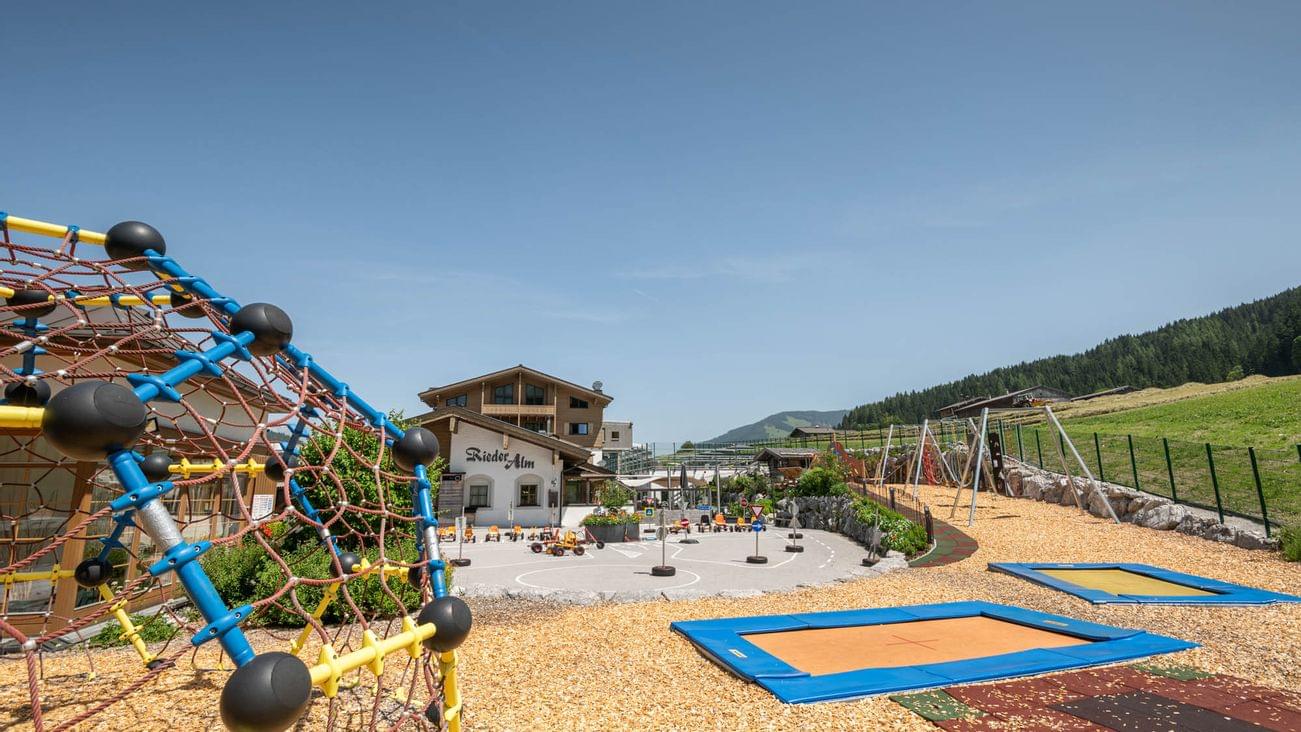 Adventure Park & Game Room
Fun & action for the little ones in the hotel with playground
Right next to the restaurant, on a beautiful area and without a road next to it, is the Riederalm theme park for kids.
While the parents relax in the restaurant or on our sun terrace and enjoy their food, the young guests experience the ultimate fun and a lot of action on the adventure playground between swings and slides.
Also our popular game room with lots of attractions is located directly next to our restaurant - so there is no boredom.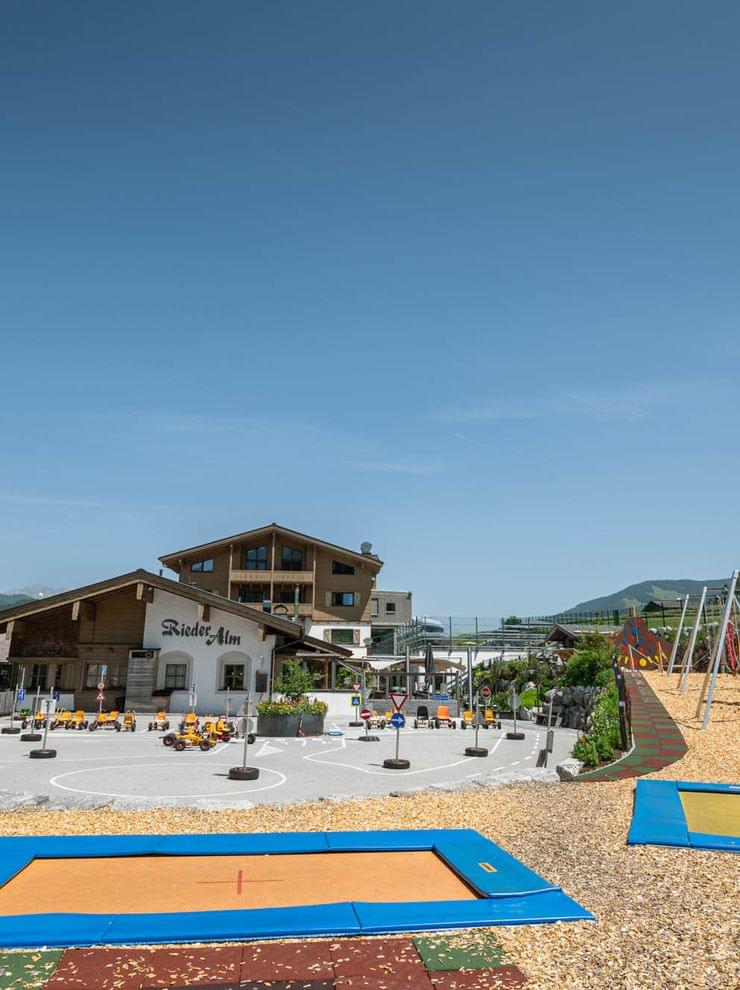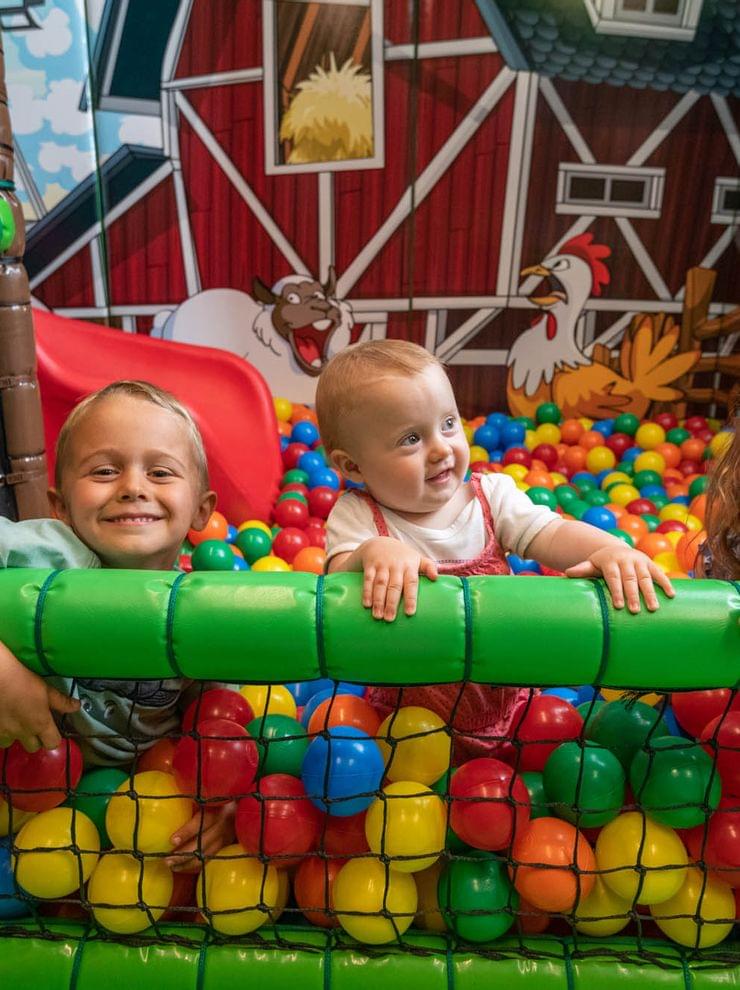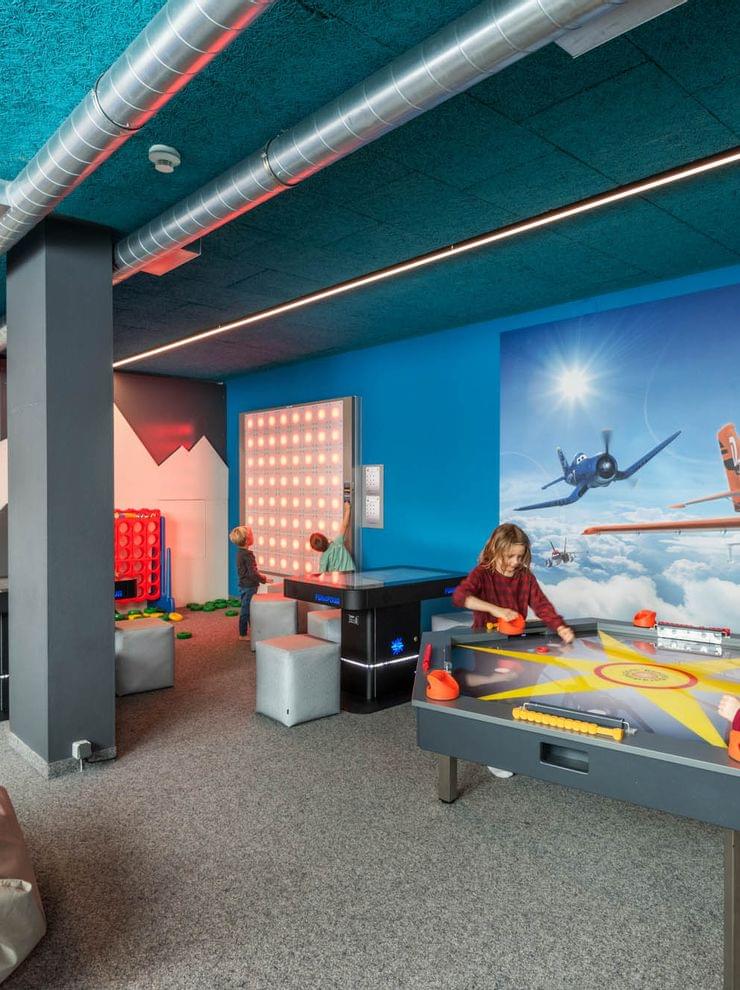 Our large outdoor play park
Exercise in the open air - what could be better for the children? On our large playground the little ones can romp around, play, swing and jump to their heart's content!
We offer a lot of attractions:
Large children's traffic education park with CatCars & MoonHarleys
3 giant floor trampolines
Climbing igloo
Basket swing, baby swing
Mini-mine tunnel
NEW since May 2019: the first motor skills parcours in Leogang - ideal for sports climbing fans from 3 - 99!
Hansl-Alm with building blocks, doll kitchen,...
There is plenty to experience here and new holiday friendships are quickly made!
Have fun on our adventure playground!
Children's traffic education park - our miniature streets
A lot of action and speed is required in the children's transportation park! Here our little guests really bring their driving skills to the fore. On cool moon-harleys and great cat-cars, the kids can do laps, whizz around the bends, have small races and have a lot of fun in the process.
On the miniature roads with roundabouts, traffic lights and signs, traffic rules are practised playfully and the right behaviour in road traffic is trained.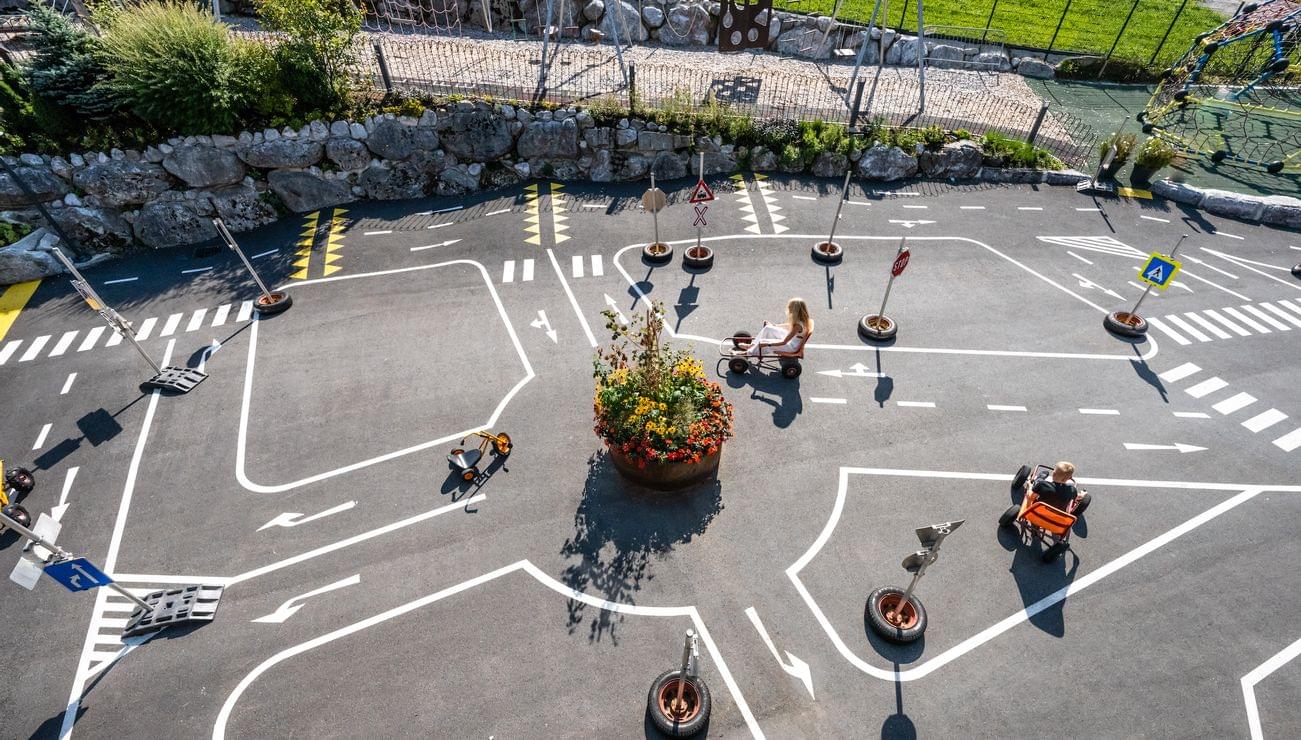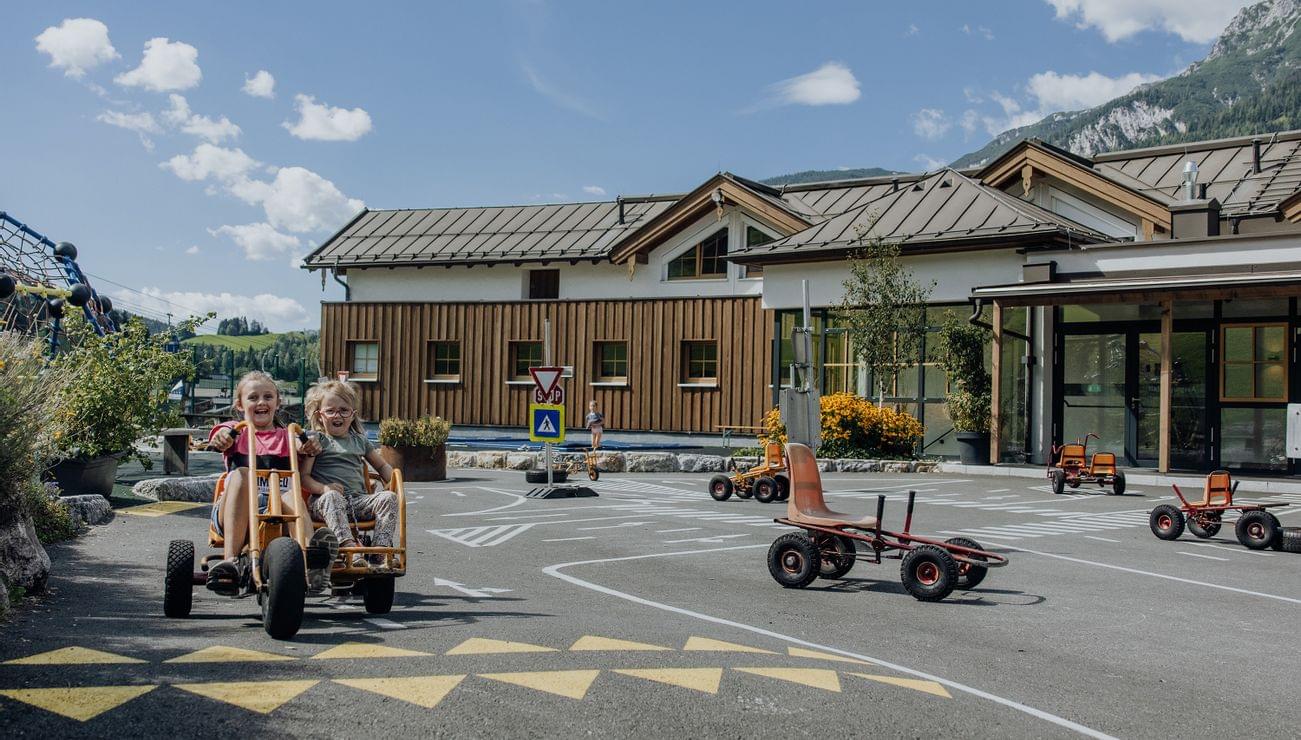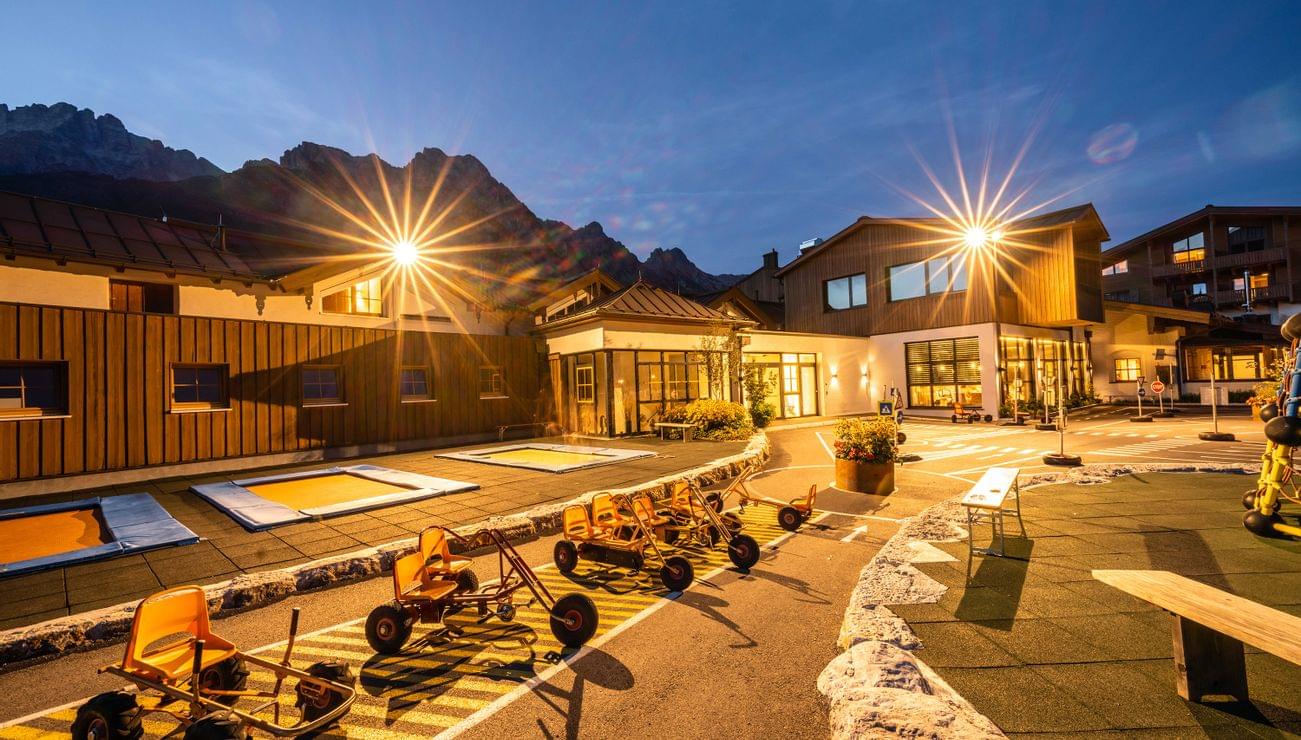 Even indoors they are guaranteed not to get bored! In our game room we play, laugh and make new friends.
Our highlights for Riederalm guests from 0-99:
Climbing wall with tube slide
Reaction wall with various games
Table game station with countless games (for playing together or alone)
Soft play facility for climbing with slide and ball pool!
Next to the reception area, there is another playroom for toddlers with the following attractions:
climbing tower with slide
soft components
wall games
minigame table with games for the youngest