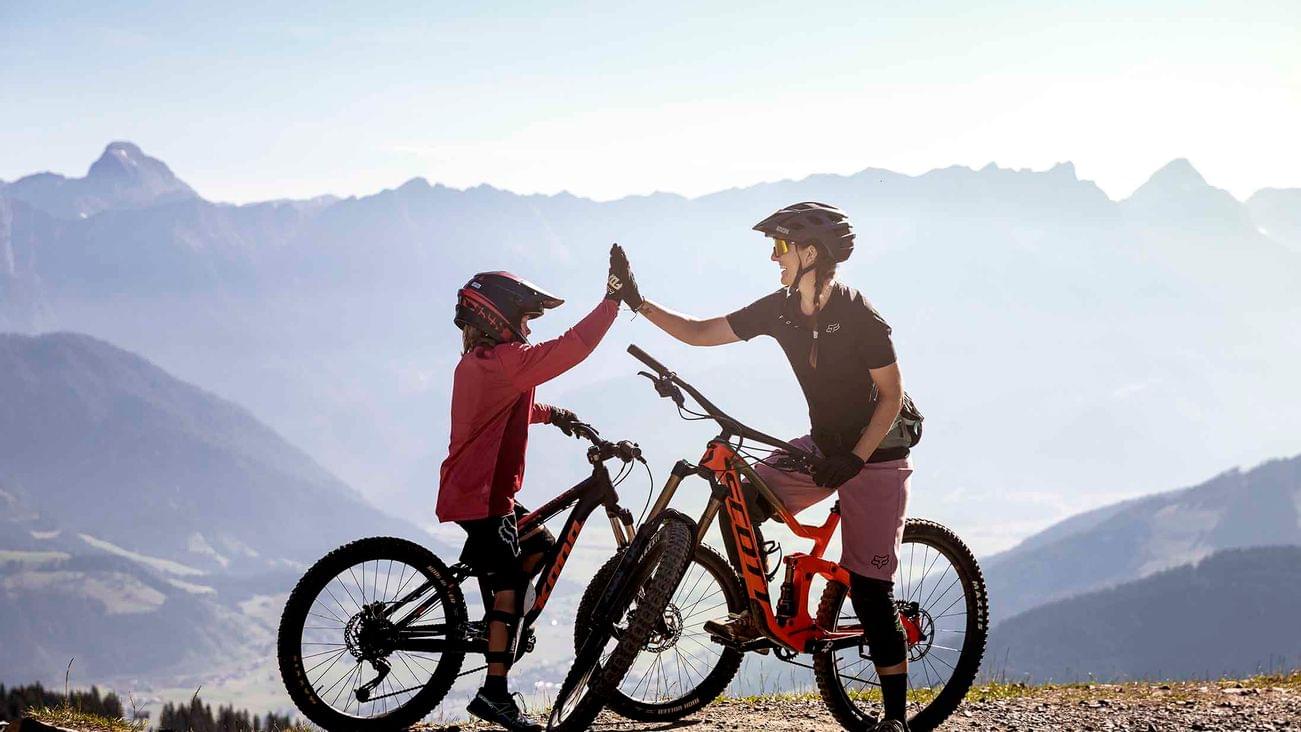 Bike School Elements Outdoor Sport
The bike school Leogang
'People who want to become top bikers practise a lot.'
You will be supported by the extensive offer of the bike school Leogang - right in front of your Good Life Resort Riederalm and at the Epic Bikepark Leogang. The versatile programme of the bike school Leogang ranges from introductory courses for beginners to training courses and advanced training courses for bike instructors and guides. The bike school Elements Outdoor Sport is located right next to our Good Life Resort Riederalm - your perfect introduction to biking fun.
Riding technique workshops
Riding technique workshops
Here you will find technical riding courses and workshops with different focuses: from BIKEPARK, FREERIDE AND DOWNHILL to MTB and E-Bike Safety courses, there is something for everyone. Of course for every level and every taste!
The bike school Elements Outdoor Sport also offers a wide range of activities for children and young people. The trainers tailor the offer to the respective groups and age classes individually and according to requirements. The route selection and the topics are adapted to the weather.
For children and teenagers from 4 to 18 years, various programme points are held in the world champion Epic Bikepark Leogang. From ½-day or full-day courses to private or family training courses to multi-day children's and youth camps all levels in the bike park.
All tours are individually adapted by the local guides to the respective group and the conditions (weather, etc.). Experience the most beautiful guided tours in the region, tailored to your needs!
Friends and family training
Friends or family training is a private technical riding training for bike enthusiasts and for friends who want to do a training together at a special rate. Let's start at the practise area where you learn all the basic techniques that are necessary before you move a step further into the 'Riders Playground' or the bike park!
Early Bird For all early risers!
One hour private workshop from 08:45 - 09:45 am every day by appointment at a special rate!
Dirt Jump Courses
You want to learn a trick? No problem. The Dirt Jump and Bag Jump training for advanced riders. This is about tricks and tips for good style and safety when jumping.
Camps & multi-day events
Countless theme camps are held throughout the year (e.g.: Style and Gravity Days, Girls Shred too Ladies Camp, Rookie Camp, Youth Bike Park Days, E-Bike Safety Days and much more).
Simply ask - the pros will be happy to assist you!