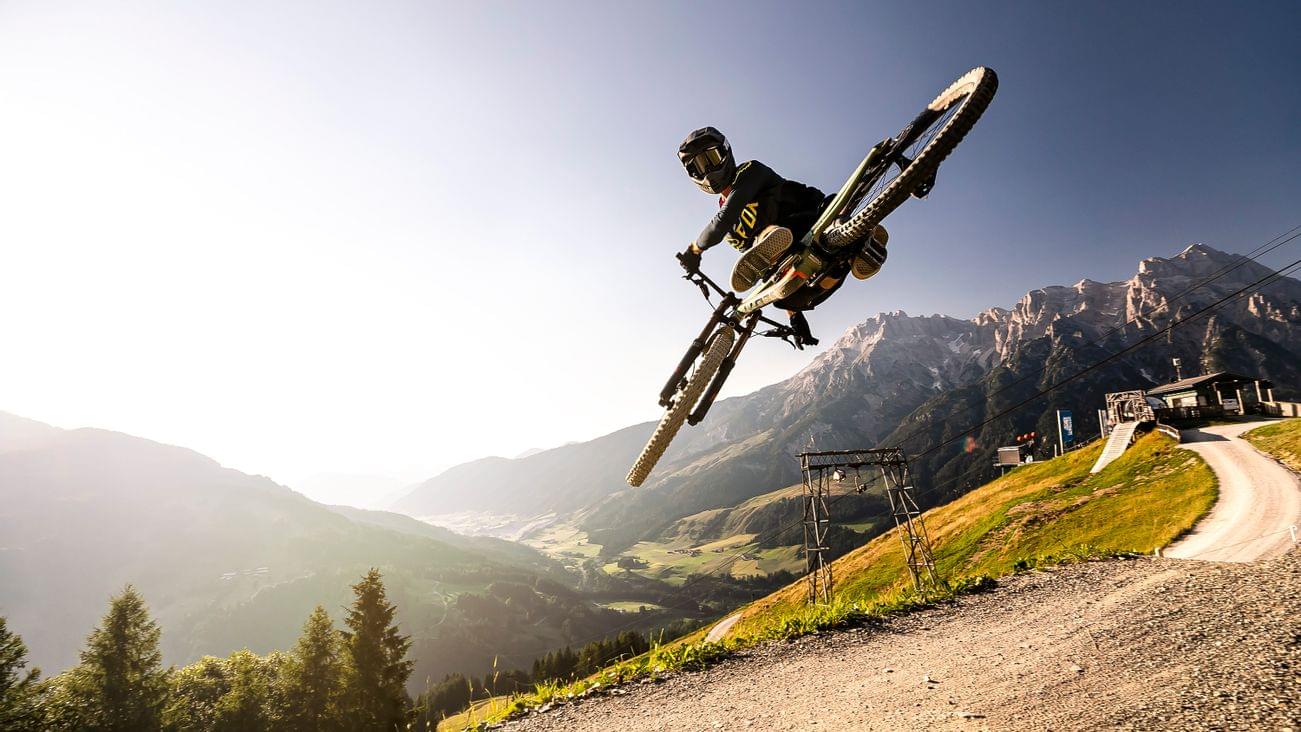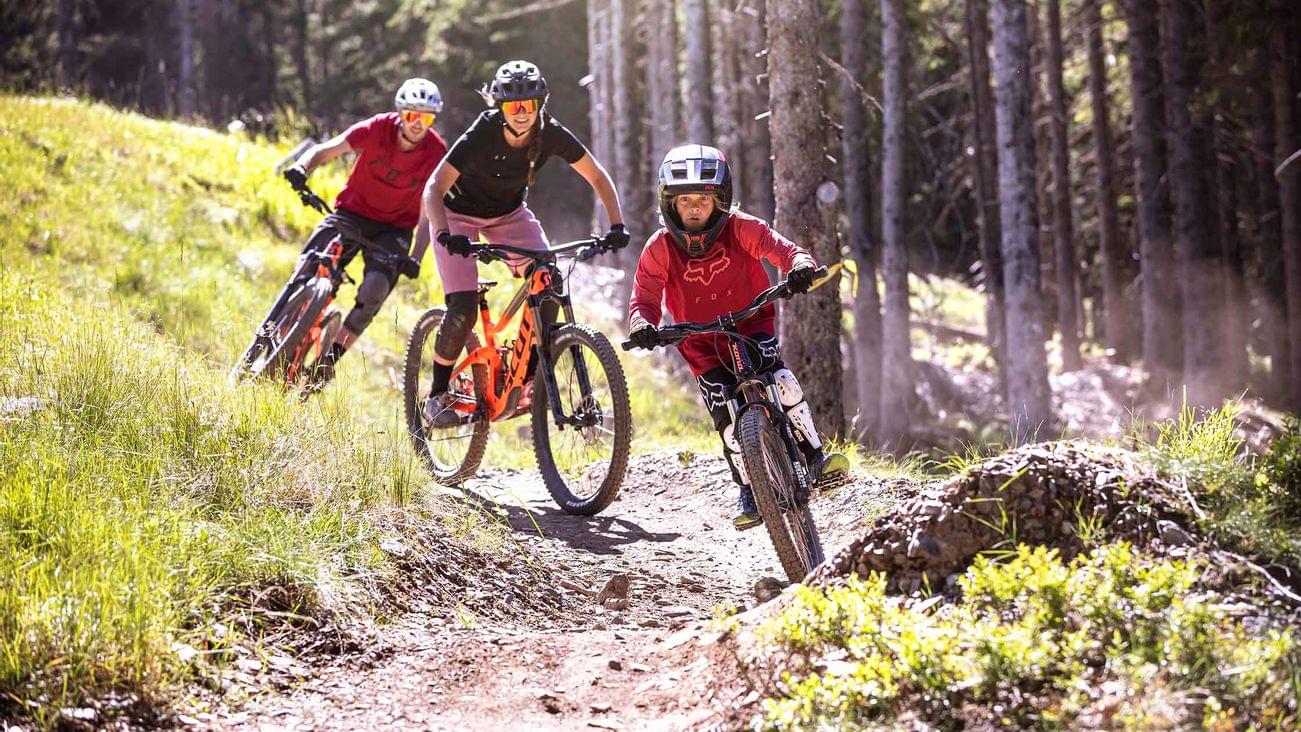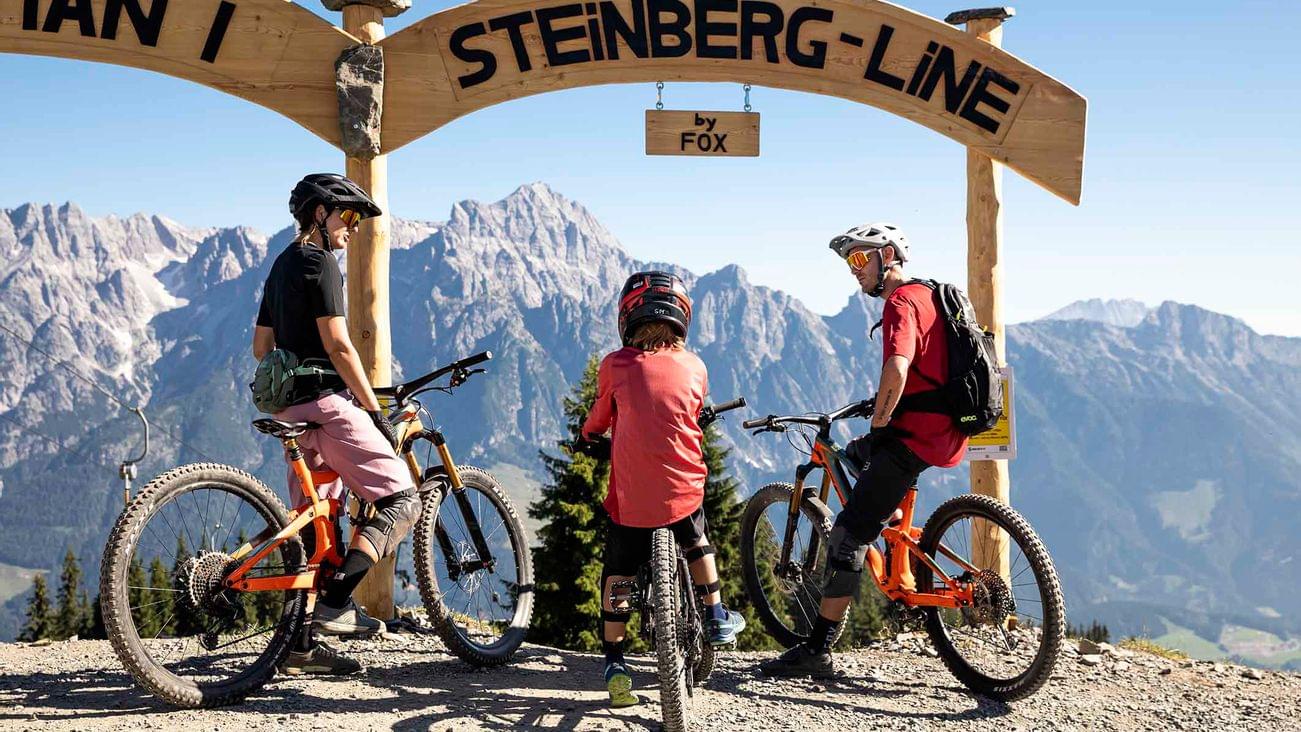 Bikepark in Leogang
The Epic Bike Park Leogang
It is one of the most renowned bike parks in Europe: the Epic Bike Park Leogang. Furthermore, it is one of only 11 bike parks worldwide classified as an absolute top-level park.
The Epic Bike Park clearly fulfils all the superlatives: it offers downhill for world champions on the UCI World Championship and World Cup track Speedster, impresses on 80 km Lines & Trails on 7 mountains with only one ticket and offers with the Riders Playground a 10,000 m² exercise area. The unique Hot Shots fired by GoPro offers a Pro - Jump Line with lots of airtime like no other.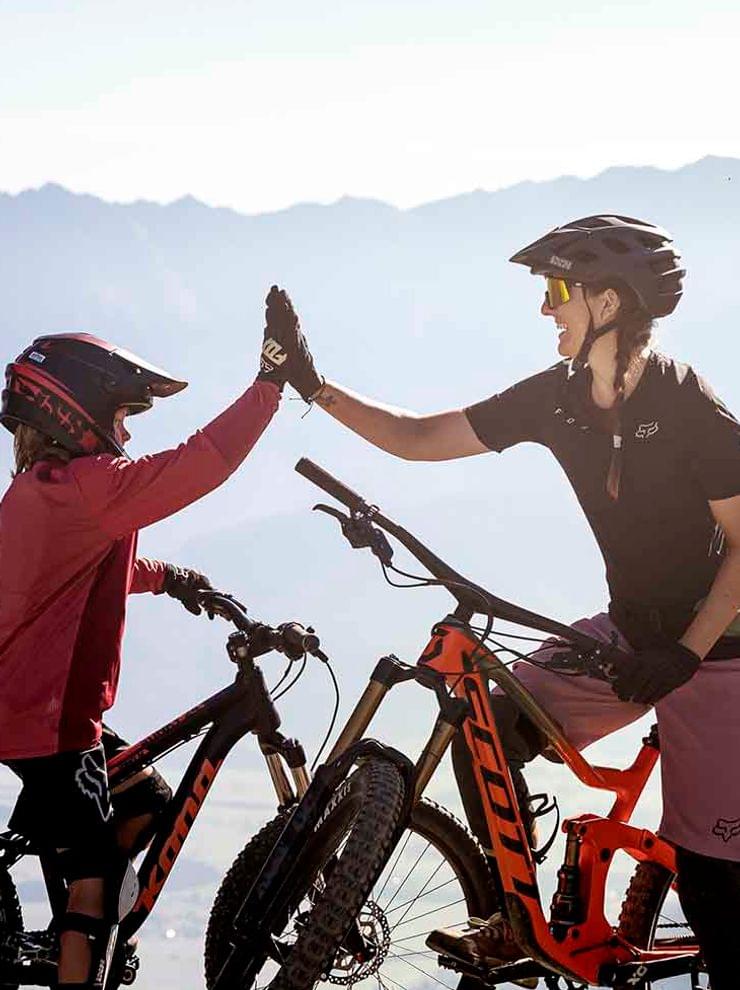 The Leogang Bike Park is not only a well-known name among mountain bike fans, it is also the most sought-after destination in Europe, and is extremely popular with amateurs and professionals. At the numerous international events, the entire world elite is represented in Leogang . Whether freerider, downhiller or enthusiastic single trail driver, fun is guaranteed in any case. The hotel with a perfect location directly on the Leoganger Bike Park? The Good Life Resort Riederalm!
The ascent to the start takes place with the Asitzbahn mountain lift - directly at the Good Life Resort Riederalm, the Bikepark Leogang Hotel - entrance about 30 metres away. Then it's up to the fast downhill bike, depending on your desire and skill on different routes:
Steinberg Line by FOX (light)
Hangman I (moderate)
HOT SHOTS fired by GoPro (difficult)
Antonius Trail (difficult)
Flow Link (medium difficult)
Hangman II (light)
Flying gangster (moderate)
SPEEDSTER (difficult)
Steinberg Link (light)
Vali's hell (difficult)
Bongo Bongo (difficult)
Lumberjack Line (difficult)
Riders Playground:
Riederfeldlift
conveyor belt
GoPro Bagjump
World Champs Pumptrack
This fluid line for all skill levels starts at the Steinbergalm mountain station and returns to the valley station in many curves with an average gradient of 9%.
Steinberg Line by Fox | 7.8 km | 929 height metres I light
The technically demanding line with roots, north shores, stones and tight curves has the characteristics of a single trail. With optional drops and boner logs. Start is at the mountain station, finish at the start of the flow link.
Hangman 1 | 2.1 km | 358 metres of altitude I medium difficult
HOT SHOTS - fired by GoPro
HOT SHOTS - fired by GoPro
The Pro - Jump Line with a lot of airtime winds with a width of 2.5 m from the Asitz mountain station downhill through the forest - with Tables, Rollers and Wallrides - to the Flow Link.
Hot Shots | 3.3 km | 352 metres of altitude I difficult
A narrow, unspoiled trail that begins after the junction Flow Link and is characterised by winding forest passages. At the end it flows into the Steinberg Line.
Antonius Trail | 1.4 km | 150 metres of altitude I difficult
Casual Freeride Line, which runs through the forest towards the middle station Asitz. The Flow Link leaves some questions unanswered: Airtime or ground adhesion? Many variable takeoffs, stepdowns, tables and berms.
Flow Link | 0.8 km | 93 altitude metres I medium difficult
Here you can enjoy riding for everyone on a wide route and with dock curves and tables that are demanding for both beginners and experts.
Hangman 2 | 4.2 km | 455 height metres I light
For advanced users and pros, here is the thing. Because the line with many Wallrides, Berms, Tables and optional takeoffs as well as drops up to 5 m runs parallel to the speedster.
Flying Gangster | 3.2 km | 484 altitude metres I medium difficult
The UCI World Championship and World Cup track is the highlight that demands the most - a combination of steep and technically challenging sections and off-camber passages for experienced bikers!
Speedster | 2.3 km | 484 metres of altitude I difficult
Everybody's darling among the lines. There's curve fun for everyone here. From Hangman 2, take a generous northshore bridge towards the valley station - with many curves and adjoining trails.
Steinberg Link | 1.2 km | 91 height metres I light
This epic new downhill line does not bring good memories for local hero Vali Höll, who lost her chance for gold here. But gold is waiting next time!
Vali's Hell | 0.9 km |169 metres of altitude I difficult
Here, good line selection and technology are essential. This real challenge branches off into the forest at half the height of the Flying Gangster - with many tight curves, steps, roots, stone passages and North Shore elements.
Bongo Bongo | 1.3 km | 237 metres of altitude I difficult
Bike school & bike rental
Right next to our hotel on the Leoganger Bike Park is the bike school 'Elements Outdoor Sports' - the Pros regarding biking. No matter if technical training, trial day in the bike park, downhill camps,... here you are in good hands.
Perfect equipment is also provided. You will find downhill bikes, protectors, helmet and much more at Sport Mitterer, which is located right next to our hotel. Get some advice.