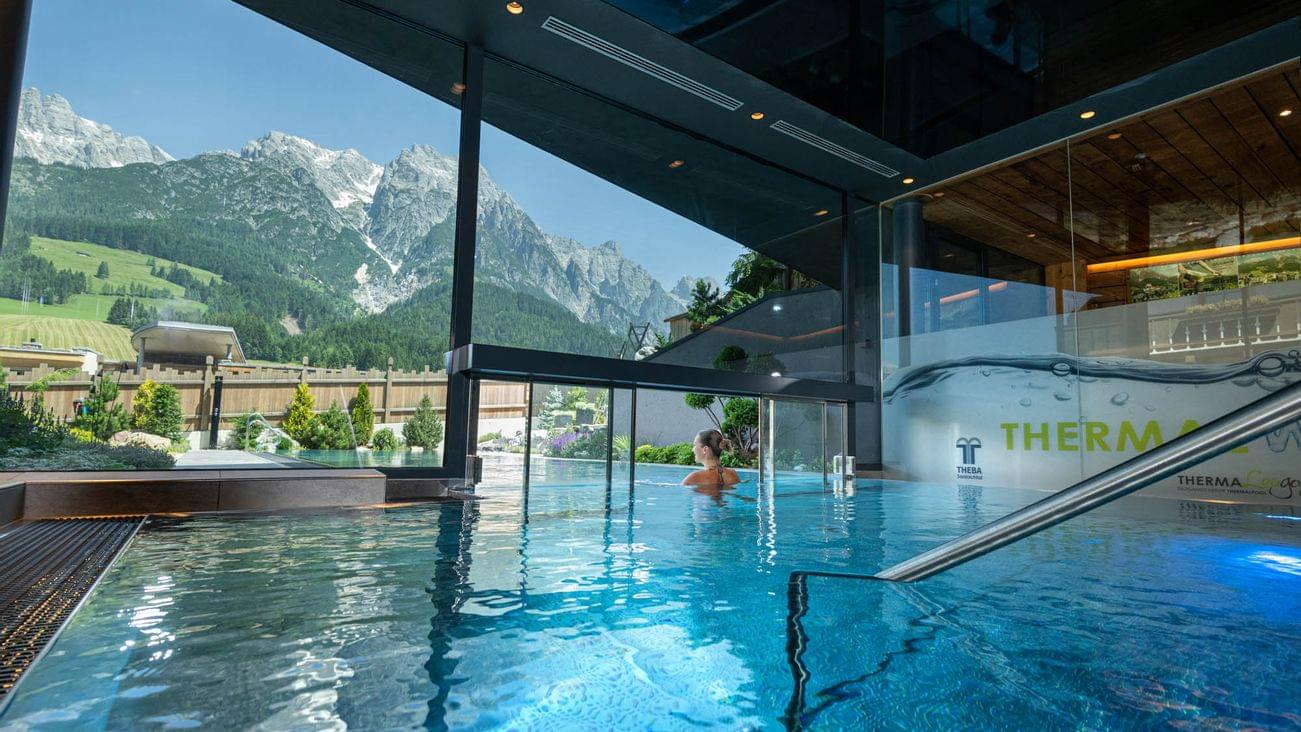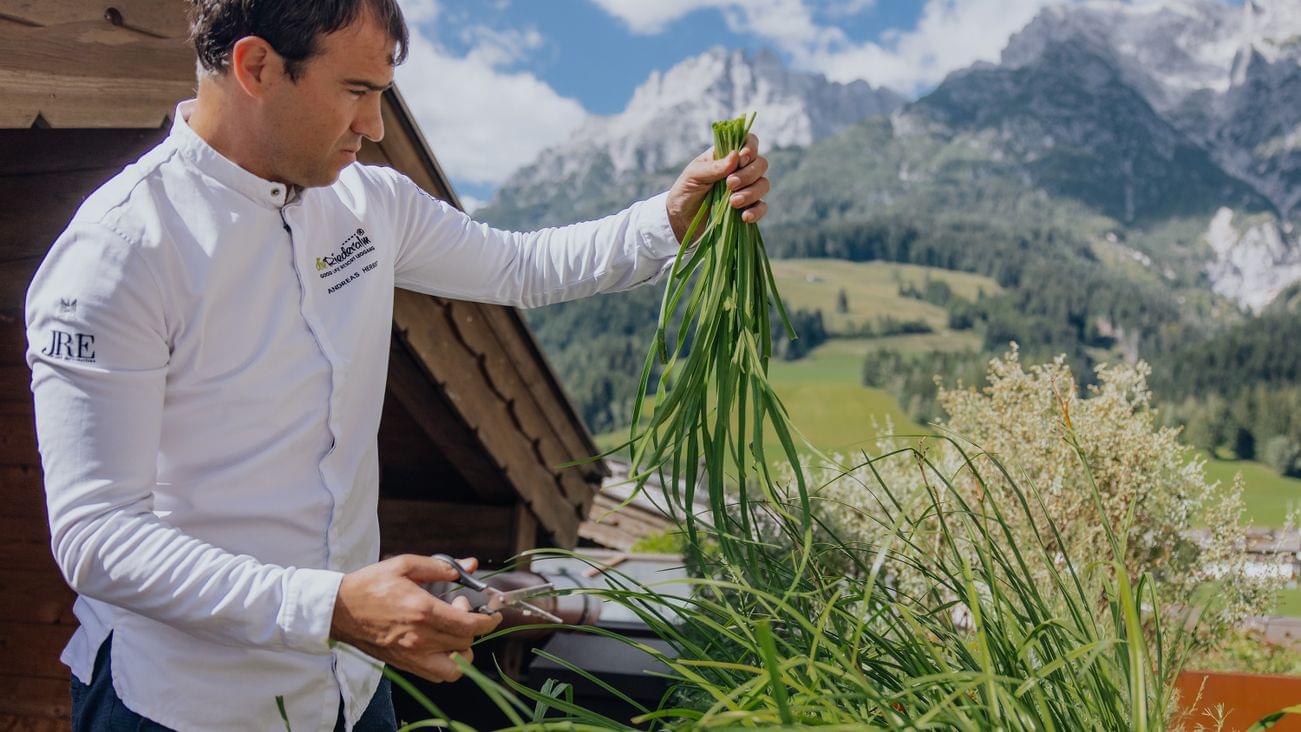 Sustainable holidays
Sustainability at the Riederalm
Climate change, environmental protection and the preservation of habitats are also becoming increasingly important in tourism. That is why GOOD LIFE at the Riederalm region naturally also means an extensive concept on the subject of sustainability. The 'green conscience' is one of the most important pillars of our Good Life philosophy.
Sustainability and regionality are particularly important in our gourmet cuisine. From homemade jams, cereals and smoothies or the breakfast egg to a variety of products that are processed into unique creations for the afternoon snack and gourmet menu in the evening, everything comes from the local area. The majority of our products are sourced from Leogang and the surrounding region, so the transport routes can be kept very short.
We also try to be as sustainable as possible in our wellness areas . For example, we obtain the thermal water for our thermal spa water pool from St. Martin near Lofer - i.e. the best, regional healing water. Delivery of thermal water with our THERMALeogang Truck on Tour - a 'mobile' thermal spa, so to speak - is our top priority.
Save the Planet - Pools & SPA
Save the Planet - Pools & SPA
In fact, we use the energy from our biomass heating plant.<br/> The biomass plant was built in 2006 and since then has served the surrounding hotel businesses as well as the staff home, the Leoganger Bergbahnen mountain lifts and some private households. A further part of our required energy comes from our hotel photovoltaic system. However, we are carefully managing this precious resource as our energy costs are quadrupling in the resort. But don't worry, you are sure to get your money's worth of relaxation.
Save the energy - Rooms & Suites
Save the energy - Rooms & Suites
The biggest enemy of enormous energy costs is probably the cold season. This gives us a new, professional and highly environmentally friendly energy system. Especially in the cold seasons it is important to us that you feel the atmosphere is comfortable and pleasant. As before, you can regulate your room temperature yourself in your hotel room, but ask you to use your energy carefully. Mother Earth will thank you, and so we can all make a small - but calculated on the number of guests - decent environmental contribution! <br/> Our advice: air out your hotel room twice a day for 3 minutes, otherwise our room fairy will be happy to do this while cleaning.
Save the energy - Room cleaning & laundry
Save the energy - Room cleaning & laundry
Quite a few guests ask us whether it is actually necessary to clean the hotel room every day or to get fresh laundry. <br/> We too believe that this should be your own decision from now on. There is now a custom-made door hanger with which you can inform us that for the following day room cleaning is not necessary . Admittedly, we have not only looked at this idea from our guests, but also travellers: what is offered internationally in luxury hotels surely also pleases our guests.<br/> If necessary, we will bring you fresh bath and towels to your room. You can also change your bed linen by referring to a card that you will find in your room.
Save your Money - Gourmet & Delight
Save your Money - Gourmet & Delight
It is no secret that the costs of food are
noticeably overpriced. A wide variety of ingredients cost up to 25% more, especially for those who come from far away and thus incur enormous travel costs and add to the environment.<br/> Thus we rely on the best quality local produce from the Leogang region, according to the motto: we cook what nature has to offer.<br/> Our multi-award-winning chef and JRE member Andreas Herbst is a master of his field and will continue to pamper you with his team - through the day as part of the gourmet board.
Save the planet - holidays without cars
Save the planet - holidays without cars
Admittedly, a change of mind is already required in order to start your holiday trip to us even without a car. You'll be amazed at how easily this can be done. <br/> Our tip: Book your trip by train or plane as soon as possible, right after your holiday booking. There are really top price offers if you are early enough.
By train: We will of course pick you up from Leogang station.<br/> By plane: We are happy to organise an airport shuttle for you.
Save your holidays - winter equipment rental
Save your holidays - winter equipment rental
Hesitant to take all your winter gear with you when you travel without a car? So leave them at home and rent your winter sports equipment at one of our numerous sports shops, at very fair conditions. This way you not only save energy resources but also a lot of nerves with the time-consuming packing. In the hotel resort we are happy to lend out rucksacks and winter hiking poles.
History
The success story of the Riederalm
History
Our top location
The most beautiful mountains in the world right on your doorstep
Our top location